Gray T. Culbreath receives Order of the Palmetto
Columbia, S.C. – May 11, 2022
Gallivan White Boyd is honored to announce that Partner, Gray T. Culbreath received the Order of the Palmetto on May 11, 2022. Governor Henry McMaster awarded Culbreath for his outstanding service to the South Carolina State Museum.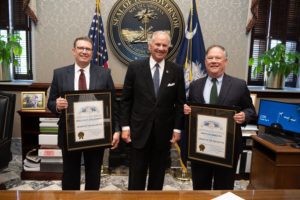 Gray T. Culbreath has served the Museum Commission under four governors and three executive directors in his 22 years of service. Nineteen of those years, he served as Commission Chair, and his leadership was invaluable in guiding the museum through various projects.
Culbreath is the Partner in Charge of the Columbia office and sits on GWB's Executive Committee. Gray's law practice includes defending product manufacturers in product liability suits brought both individually and as class actions for economic loss, personal injury, and property damage. For over 30 years, Gray has handled complex trials and appeals in federal and state courts across South Carolina.
"The Governor's award of the Order of the Palmetto to Gray for his lifetime of tireless service to the South Carolina State Museum is a source of pride to the members of GWB," noted fellow Executive Committee member, Johnston Cox. "Gray has exhibited the same unwavering and extraordinary service to the United States Army, his civilian clients, GWB, and the legal profession both state-wide and nationally throughout his entire legal career, and we are elated to see his efforts recognized."